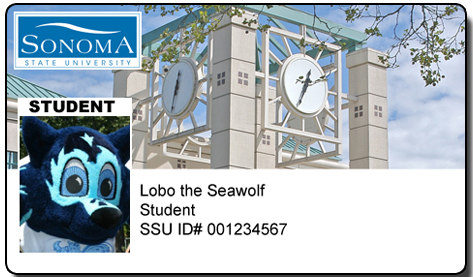 The Seawolf Card is the official identification card of Sonoma State University. The card identifies you as a member of the Sonoma State community and entitles you to other privileges and uses on campus. By adding WolfBucks to your card, your Seawolf Card becomes a debit card usable at all Dining Services venues, the Bookstore, vending machines, the Rec Center, the Copy Center, and the Seawolf Service Center.
Where Do I Get My Seawolf ID Card?
Visit the Seawolf Service Center located on the first floor of Salazar Hall Monday through Thursday from 8:00am to 5:00pm and Friday 9:00am to 5:00pm. For security purposes, please be sure to bring photo identification with you.
Caring for Your Seawolf Card
Your Seawolf Card is designed to last under normal conditions for many years. To ensure the durability and validity of your Seawolf Card:
Keep it in a safe carrying case (such as a wallet or card holder).
Keep away from magnets and computers to avoid magnetic damage.
Do not punch holes in your card.
Do not tamper with the information or picture printed on the card.
Do not wash the card or use it for any purpose it was not designed for.