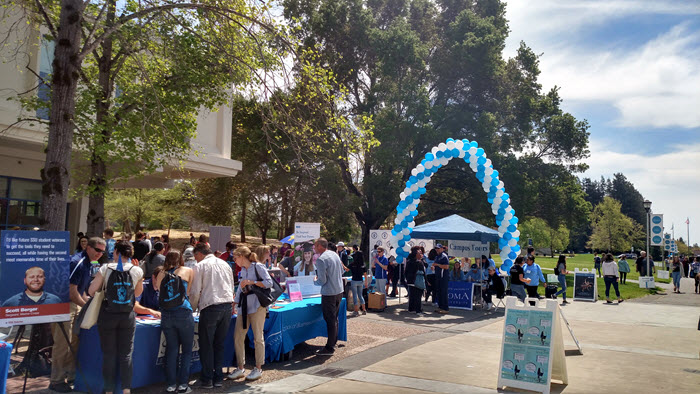 Key Control Policy
It is the policy of Sonoma State University to promote the security of campus personnel and appropriate access to University property. This policy describes the control, usage, and possession of keys to campus facilities. The detailed sections are General Provision, Design of Keying Systems, Fabrication, Responsibility for Issuance, Responsibilities Regarding Lost Keys, Eligibility for Possession, Provision for Contractor Access, and Key and Building Security.
Principles
General Provision
Unauthorized fabrication, duplication, possession, or use of keys to facilities of Sonoma State University is a crime (California Penal Code 469). University keys are State property and may be recovered at any time.
Design
Design of the keying system is the responsibility of Facilities Services. The design will ensure security and reasonable convenience to personnel occupying campus facilities.
Fabrication
Facilities Services fabricates all keys and performs all lock changes for campus facilities, except for work performed by on-site contractors under the direction of Facilities Services. Records of keys to campus facilities, including the names of individuals to whom keys are issued, dates of issue/return/loss will be maintained by the Seawolf Service Center. University keys will not be duplicated, except by Facilities Services.
Responsibility — Issuance
All persons issued University keys shall at all times be held responsible and accountable for said keys. Appropriate administrators may request and delegate the issuance of keys only as necessary and in accordance with the following Key Eligibility Criteria.
Key Eligibility
Eligibility and Authorization

| Type of Key | Eligibility to Carry | Responsibility to Authorize |
| --- | --- | --- |
| Full Master Set (access to all campus facilities) | President, Vice President for Administration, Provost, Director of University Police, Police Officers, Appropriate Facilities Staff | President, Vice President for Administration, Director of University Police, Director of Facilities |
| Master (access to all locks within a building) | Appropriate Facilities Staff, Employees as needed to perform their duties | Director of Facilities, Appropriate Administrator |
| Sub-Master (access to a group of locks within a building) | Employees as needed to perform their duties | Appropriate Administrator |
| Change (single lock) | Employees and students as needed | Appropriate Administrator |
| Building Entrance | Employees and students as needed | Appropriate Administrator |
Lost Keys
Individuals possessing keys to campus facilities are responsible for them. The University reserves the authority to charge individuals for the cost of key replacement and/or re-keying of locks caused by loss of keys to campus facilities in accordance with a rate schedule approved periodically by the President. All lost keys must be reported immediately to the appropriate department administrator and the University Police.
Contractor Access
Keys needed by contractors or other non-university users must be authorized by Facilities Services. The authorization shall include the individual, firm name, and specific return date. All costs of key recovery or re-keying related to unreturned keys will be the responsibility of the firm to which the keys were issued. The final contractual payment will not be made until keys are cleared.
Key and Building Security
The individual to whom keys are issued is personally responsible for the use of those keys until they are returned to Seawolf Services. Individuals must personally sign for their keys and shall not transfer or loan their keys to another individual. Key holders shall not "prop" doors or leave them unlocked during hours when the facility is normally closed. Key holders shall not unlock buildings or rooms for others unless the individual has a valid, verifiable reason and proper identification for access, or is known by the employee to have legitimate need for access to the room or building. Students are issued keys for a semester at a time only. Student registration may be held pending clearance of keys at the end of each semester. Employees may be issued keys for the duration of employment. The employee's final paycheck may be held pending return or clearance of outstanding keys.
Key Issuance Procedures
Employees & Students
Keys may be requested for regularly appointed University and auxiliary employees for the duration of employment. Students must be enrolled in classes and keys may be requested for a period of no longer than one semester at a time. If requesting electronic access, please allow 48 hours for activation after issuance.
At minimum, complete all required (*) fields on the Faculty/Staff Key Request Form and/or Student Key Request Form. 
Click to approve at the bottom of the form.
Enter the name and email address of the building area signer or your appropriate administrator in accordance with the Key Control Policy, click next. If a second/third approval is required, please complete the next participant(s) section.
Enter your name and email and click to approve this document. An email will be sent to your email for confirmation. To complete the process, open the email and confirm your email address using the link provided.
After you confirm your approval and other form participants have fulfilled their roles, all parties will receive a completed "approved" copy of the Key Request Form.
Once approved, the completed Key Request Form will be routed to the Seawolf Service Center (SSC) for processing. 
For employees, the requestor will be notified by the Seawolf Service Center when the requested access is ready for pick-up. The turnaround time for issuance is approximately 24-48 hours.
For students, once the SSC receives the request, the requestor may come in to complete the process. 
Receive and sign for authorized keys. 
Duplicates of outstanding (un-cleared) keys will not be issued.
Employees: Turn in keys when no longer needed or prior to issuance of final pay warrant. Periodic auditing of issued keys may be requested.
Students: Uncleared keys may result in administrative hold of student's registration.
Lost Key Procedures
Reporting
Lost keys should be reported immediately to the the Seawolf Service Center as well as the Department originally authorizing the keys.
Complete Report of Key Loss Form (PDF)
Obtain signature of appropriate Department or School Administrator, indicating if the key is to be re-issued and if the Department is requesting a "re-key."
Seawolf Service Center will inform the designated Police and Parking Services Administrator who will determine if, for safety or security reasons, re-keying is required.
Charges
Lost Key charges are as follows:

All keys, whether brass or electronic, will carry a lost key charge of $25.00 per key. (For example, if someone has five brass keys and loses them, the lost key charges will equal $125.00, but if they lose one electronic key card with two master key access levels encoded on the card, the lost key charge will equal $25.00).

Lost Key charges will be refunded if keys are found and turned in to the Seawolf Service Center within 30 days of the reported key loss.
If the lock must be changed for security reasons, actual costs of re-keying may be charged to the department originally authorizing the issuance of the keys in question.